Last night, I watched the 2005 Pride & Prejudice again and I have decided that it is one of the most nearly perfect movies ever made. See clips from the movie and my comments about it Here.
I was left with some questions about how the movie compares to the Jane Austen book, and I found the full 10 and 1/2 hour audio book on Youtube. I thought that you might also like to hear it. The entire book in print is also online free Here.
Although I write and although I am a fairly verbal person, I am no doubt a more visual person. I needed some images to help me recall the characters, and the following was a nice visual for me:
Quotes from the Book
Chapter 1
"It is a truth universally acknowledged, that a single man in possession of a good fortune, must be in want of a wife." …
"Why, my dear, you must know, Mrs. Long says that Netherfield is taken by a young man of large fortune from the north of England; that he came down on Monday in a chaise and four to see the place, and was so much delighted with it, that he agreed with Mr. Morris immediately; that he is to take possession before Michaelmas, and some of his servants are to be in the house by the end of next week."
"What is his name?"
"Bingley."
"Is he married or single?"
"Oh! Single, my dear, to be sure! A single man of large fortune; four or five thousand a year. What a fine thing for our girls!" – Mrs. Bennet
Chapter 3
 Description of Mr. Bingley
"He was quite young, wonderfully handsome, extremely agreeable, and, to crown the whole, he meant to be at the next assembly with a large party. Nothing could be more delightful! To be fond of dancing was a certain step towards falling in love; and very lively hopes of Mr. Bingley's heart were entertained.
"If I can but see one of my daughters happily settled at Netherfield," said Mrs. Bennet to her husband, "and all the others equally well married, I shall have nothing to wish for." …
"Mr. Bingley was good-looking and gentlemanlike; he had a pleasant countenance, and easy, unaffected manners. …
 Illustration of Mr. Darcy by Robert Ball
Description of Mr. Darcy:
"…his fine, tall person, handsome features, noble mien, and the report which was in general circulation within five minutes after his entrance, of his having ten thousand a year. The gentlemen pronounced him to be a fine figure of a man, the ladies declared he was much handsomer than Mr. Bingley, and he was looked at with great admiration for about half the evening, till his manners gave a disgust which turned the tide of his popularity; for he was discovered to be proud; to be above his company, and above being pleased; and not all his large estate in Derbyshire could then save him from having a most forbidding, disagreeable countenance, and being unworthy to be compared with his friend."
[During the party, Mr. Bingley danced every dance, and he seemed to be particularly interested in the eldest of the Bennet sisters, Jane. Because there were fewer men at the dance than ladies, Elizabeth was forced to sit during a few dances, and she overheard a conversation between Bingley and Darcy]:
"Elizabeth Bennet had been obliged, by the scarcity of gentlemen, to sit down for two dances; and during part of that time, Mr. Darcy had been standing near enough for her to hear a conversation between him and Mr. Bingley, who came from the dance for a few minutes, to press his friend to join it.
"Come, Darcy," said he, "I must have you dance. I hate to see you standing about by yourself in this stupid manner. You had much better dance."
"I certainly shall not. You know how I detest it, unless I am particularly acquainted with my partner. At such an assembly as this it would be insupportable. Your sisters are engaged, and there is not another woman in the room whom it would not be a punishment to me to stand up with."
"I would not be so fastidious as you are," cried Mr. Bingley, "for a kingdom! Upon my honour, I never met with so many pleasant girls in my life as I have this evening; and there are several of them you see uncommonly pretty."
"You are dancing with the only handsome girl in the room," said Mr. Darcy, looking at the eldest Miss Bennet.
"Oh! She is the most beautiful creature I ever beheld! But there is one of her sisters sitting down just behind you, who is very pretty, and I dare say very agreeable. Do let me ask my partner to introduce you."
"Which do you mean?" and turning round he looked for a moment at Elizabeth, till catching her eye, he withdrew his own and coldly said: "She is tolerable, but not handsome enough to tempt me; I am in no humour at present to give consequence to young ladies who are slighted by other men. You had better return to your partner and enjoy her smiles, for you are wasting your time with me."
Mr. Bingley followed his advice. Mr. Darcy walked off; and Elizabeth remained with no very cordial feelings toward him. She told the story, however, with great spirit among her friends; for she had a lively, playful disposition, which delighted in anything ridiculous."…
Back at home, Mrs. Bennet expressed her feelings about Mr. Darcy:
"But I can assure you," she added, "that Lizzy does not lose much by not suiting his fancy; for he is a most disagreeable, horrid man, not at all worth pleasing. So high and so conceited that there was no enduring him! He walked here, and he walked there, fancying himself so very great! Not handsome enough to dance with! I wish you had been there, my dear, to have given him one of your set-downs. I quite detest the man."
Chapter 4
When Jane and Elizabeth were alone, the former, who had been cautious in her praise of Mr. Bingley before, expressed to her sister just how very much she admired him.
"He is just what a young man ought to be," said she, "sensible, good-humoured, lively; and I never saw such happy manners!—so much ease, with such perfect good breeding!"
"He is also handsome," replied Elizabeth, "which a young man ought likewise to be, if he possibly can. His character is thereby complete."
"I was very much flattered by his asking me to dance a second time. I did not expect such a compliment."
"Did not you? I did for you. But that is one great difference between us. Compliments always take you by surprise, and me never. What could be more natural than his asking you again? He could not help seeing that you were about five times as pretty as every other woman in the room. No thanks to his gallantry for that. Well, he certainly is very agreeable, and I give you leave to like him. You have liked many a stupider person."
Sir William Lucas, Mr. Bingley, and Mr. Darcy
Chapter 5
Within a short walk of Longbourn lived a family with whom the Bennets were particularly intimate. Sir William Lucas had been formerly in trade in Meryton, where he had made a tolerable fortune, and risen to the honour of knighthood by an address to the king during his mayoralty…. For, though elated by his rank, it did not render him supercilious; on the contrary, he was all attention to everybody. By nature inoffensive, friendly, and obliging, his presentation at St. James's had made him courteous."
Charlotte Lucas – Elizabeth's Friend
"Lady Lucas was a very good kind of woman, not too clever to be a valuable neighbour to Mrs. Bennet. They had several children. The eldest of them, a sensible, intelligent young woman, about twenty-seven, was Elizabeth's intimate friend."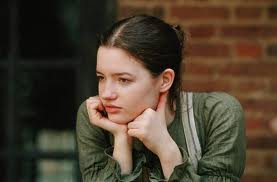 Mary Bennet
Mary Bennet Quote Contrasting Pride and Vanity in Pride and Prejudice
"Pride," observed Mary, who piqued herself upon the solidity of her reflections, "is a very common failing, I believe. By all that I have ever read, I am convinced that it is very common indeed; that human nature is particularly prone to it, and that there are very few of us who do not cherish a feeling of self-complacency on the score of some quality or other, real or imaginary. Vanity and pride are different things, though the words are often used synonymously. A person may be proud without being vain. Pride relates more to our opinion of ourselves, vanity to what we would have others think of us."
Chapter 6
"The ladies of Longbourn soon waited on those of Netherfield."
[Longburn is the Bennet home and Netherfield is where the Bingleys have recently moved. in the book, Mr. Bingley has four sisters, but in the movie, he only has one. Jane is a much more tolerant person than Elizabeth, and she had a favorable opinion of the Bingley sisters, but in chapter 6, Elizabeth believed them to be supercilious.]
[In chapter 7, Elizabeth began to amend her opinion of the Bingley ladies, but in chapter 8, the reader is allowed to see that Elizabeth's first assessment was probably correct.The Bingley girls and invited Jane to visit, and because she had no carriage with horses, Jane had been forced to ride the distance on horseback, and she did so in the rain. Because of her getting wet on her ride, Jane became ill and could not return home immediately. The next day, Elizabeth received a note saying that Jane was ill, and Elizabeth decided to walk the three miles to check on Jane. While she was at Netherfield the Bingley sisters made Elizabeth feel comfortable, but as soon as she left the room, they voiced their criticisms not only of Elizabeth but also of Jane, too.]
[In Chapter 6, Mr. Darcy and Sir William Lucas were having a conversation at a dance and when Lucas saw Elizabeth, he attempted to interest Darcy in dancing with her.]
"My dear Miss Eliza, why are you not dancing? Mr. Darcy, you must allow me to present this young lady to you as a very desirable partner. You cannot refuse to dance, I am sure when so much beauty is before you." And, taking her hand, he would have given it to Mr. Darcy who, though extremely surprised, was not unwilling to receive it, when she instantly drew back, and said with some discomposure to Sir William:
"Indeed, sir, I have not the least intention of dancing. I entreat you not to suppose that I moved this way in order to beg for a partner.
Chapter 8
"Miss Bingley began abusing her [Elizabeth] as soon as she was out of the room. Her manners were pronounced to be very bad indeed, a mixture of pride and impertinence; she had no conversation, no style, no beauty. Mrs. Hurst [Bingley's married sister] thought the same, and added:
"She has nothing, in short, to recommend her, but being an excellent walker. I shall never forget her appearance this morning. She really looked almost wild."
"She did, indeed, Louisa. I could hardly keep my countenance. Very nonsensical to come at all! Why must she be scampering about the country, because her sister had a cold? Her hair, so untidy, so blowsy!"
"Yes, and her petticoat; I hope you saw her petticoat, six inches deep in mud, I am absolutely certain; and the gown which had been let down to hide it not doing its office."
"Your picture may be very exact, Louisa," said Bingley; "but this was all lost upon me. I thought Miss Elizabeth Bennet looked remarkably well when she came into the room this morning. Her dirty petticoat quite escaped my notice."
"You observed it, Mr. Darcy, I am sure," said Miss Bingley; "and I am inclined to think that you would not wish to see your sister make such an exhibition."
"Certainly not."
"To walk three miles, or four miles, or five miles, or whatever it is, above her ankles in dirt, and alone, quite alone! What could she mean by it? It seems to me to show an abominable sort of conceited independence, a most country-town indifference to decorum."
"It shows an affection for her sister that is very pleasing," said Bingley….
"But it must very materially lessen their chance of marrying men of any consideration in the world," replied Darcy.
To this speech Bingley made no answer; but his sisters gave it their hearty assent, and indulged their mirth for some time at the expense of their dear friend's vulgar relations."
Chapter 9
[In Chapter 9, Mrs. Bennet goes to the Bingley home to check on Jane. She recognized that Jane's having been stranded in the Bingley home was to her advantage and was not in a hurry to rush her home. While she was visiting there, Mrs. Bennet availed herself of every opportunity to point out all her elder daughter's virtues. She compares Jane's beauty to the plainness of the Lucas girls.]
"I do not like to boast of my own child, but to be sure, Jane—one does not often see anybody better looking. It is what everybody says. I do not trust my own partiality. When she was only fifteen, there was a man at my brother Gardiner's in town so much in love with her that my sister-in-law was sure he would make her an offer before we came away. But, however, he did not. Perhaps he thought her too young. However, he wrote some verses on her, and very pretty they were."
Elizabeth Bennet Quote about the Uselessness of Poetry
"And so ended his affection," said Elizabeth impatiently. "There has been many a one, I fancy, overcome in the same way. I wonder who first discovered the efficacy of poetry in driving away love!"
"I have been used to consider poetry as the food of love," said Darcy.
"Of a fine, stout, healthy love it may. Everything nourishes what is strong already. But if it be only a slight, thin sort of inclination, I am convinced that one good sonnet will starve it entirely away."
Chapter 13
[In Chapter 13, Mr. Bennet's cousin Mr. Collins makes plans to come to the Bennet home for a visit. Because of the tradition of that time, Mr. Bennet's estate could only be inherited by a male heir, and Mr. Collins had been named that heir.]
Chapter 15
[Mr. Collins was aware that in inheriting the Bennet estate, he would leave the Bennet girls without, and he had written that while visiting that he hoped to make amends or atonement.]
"Having now a good house and a very sufficient income, he intended to marry; and in seeking a reconciliation with the Longbourn family he had a wife in view, as he meant to choose one of the daughters, if he found them as handsome and amiable as they were represented by common report. This was his plan of amends—of atonement—for inheriting their father's estate; and he thought it an excellent one, full of eligibility and suitableness, and excessively generous and disinterested on his own part.
"His plan did not vary on seeing them. Miss Bennet's lovely face confirmed his views, and established all his strictest notions of what was due to seniority; and for the first evening she was his settled choice. The next morning, however, made an alteration; for in a quarter of an hour's tete-a-tete with Mrs. Bennet before breakfast, a conversation beginning with his parsonage-house, and leading naturally to the avowal of his hopes, that a mistress might be found for it at Longbourn, produced from her, amid very complaisant smiles and general encouragement, a caution against the very Jane he had fixed on. "As to her younger daughters, she could not take upon her to say—she could not positively answer—but she did not know of any prepossession; her eldest daughter, she must just mention—she felt it incumbent on her to hint, was likely to be very soon engaged."
"Mr. Collins had only to change from Jane to Elizabeth—and it was soon done—done while Mrs. Bennet was stirring the fire. Elizabeth, equally next to Jane in birth and beauty, succeeded her of course."
[The officers' uniforms had caught the eyes of the younger two Bennet sisters, and they had no interest at all in Mr. Collins. They wanted to walk into the town of Meryton, and Mr. Collins offered to walk with them. As they entered the town of Meryton, the younger sisters began searching the town for the sight of British officers.]
"But the attention of every lady was soon caught by a young man, whom they had never seen before, of most gentlemanlike appearance, walking with another officer on the other side of the way. The officer was the very Mr. Denny concerning whose return from London Lydia came to inquire, and he bowed as they passed. All were struck with the stranger's air, all wondered who he could be; and Kitty and Lydia, determined if possible to find out, led the way across the street, under pretense of wanting something in an opposite shop, and fortunately had just gained the pavement when the two gentlemen, turning back, had reached the same spot. Mr. Denny addressed them directly, and entreated permission to introduce his friend, Mr. Wickham, who had returned with him the day before from town, and he was happy to say had accepted a commission in their corps. This was exactly as it should be; for the young man wanted only regimentals to make him completely charming. His appearance was greatly in his favour; he had all the best part of beauty, a fine countenance, a good figure, and very pleasing address."
[Initially, Mr. Wickham was interested in Elizabeth and not her sisters; and Elizabeth was equally enchanted by him. Wickham tells Elizabeth that Darcy had treated him greedily and undesirably.]
Chapter 18
[It is in Chapter 18 that that Elizabeth and Mr. Darcy finally dance and have the awkward exchange that we see in the movie.]
[When I watched the movie, I questioned whether Elizabeth was as open and as fresh as she is depicted in the movie. The book Pride and Prejudice was written over 200 years ago, at a time that women were expected to be seen and not heard. One of my main reasons for examining the book texts was that of trying to see exactly how Elizabeth's conversations had been depicted in the actual book. When I examined Chapter 18, I discovered that in this dance scene, Elizabeth Bennet said almost the exact same thing in the book as she said in the movie.]
"She danced next with an officer, and had the refreshment of talking of Wickham, and of hearing that he was universally liked. When those dances were over, she returned to Charlotte Lucas, and was in conversation with her, when she found herself suddenly addressed by Mr. Darcy who took her so much by surprise in his application for her hand, that, without knowing what she did, she accepted him….
"When the dancing recommenced, however, and Darcy approached to claim her hand, Charlotte could not help cautioning her in a whisper, not to be a simpleton, and allow her fancy for Wickham to make her appear unpleasant in the eyes of a man ten times his consequence. Elizabeth made no answer, and took her place in the set, amazed at the dignity to which she was arrived in being allowed to stand opposite to Mr. Darcy, and reading in her neighbours' looks, their equal amazement in beholding it. They stood for some time without speaking a word; and she began to imagine that their silence was to last through the two dances, and at first was resolved not to break it; till suddenly fancying that it would be the greater punishment to her partner to oblige him to talk, she made some slight observation on the dance. He replied, and was again silent. After a pause of some minutes, she addressed him a second time with:—"It is your turn to say something now, Mr. Darcy. I talked about the dance, and you ought to make some sort of remark on the size of the room, or the number of couples."
"He smiled, and assured her that whatever she wished him to say should be said.
"Very well. That reply will do for the present. Perhaps by and by I may observe that private balls are much pleasanter than public ones. But now we may be silent."
"Do you talk by rule, then, while you are dancing?"
"Sometimes. One must speak a little, you know. It would look odd to be entirely silent for half an hour together; and yet for the advantage of some, conversation ought to be so arranged, as that they may have the trouble of saying as little as possible."
"He made no answer, and they were again silent till they had gone down the dance, when he asked her if she and her sisters did not very often walk to Meryton. She answered in the affirmative, and, unable to resist the temptation, added, "When you met us there the other day, we had just been forming a new acquaintance."
"The effect was immediate. A deeper shade of hauteur overspread his features, but he said not a word, and Elizabeth, though blaming herself for her own weakness, could not go on. At length Darcy spoke, and in a constrained manner said, "Mr. Wickham is blessed with such happy manners as may ensure his making friends—whether he may be equally capable of retaining them, is less certain."
"He has been so unlucky as to lose your friendship," replied Elizabeth with emphasis, "and in a manner which he is likely to suffer from all his life."
"Darcy made no answer, and seemed desirous of changing the subject. At that moment, Sir William Lucas appeared close to them, meaning to pass through the set to the other side of the room; but on perceiving Mr. Darcy, he stopped with a bow of superior courtesy to compliment him on his dancing and his partner.
"I have been most highly gratified indeed, my dear sir. Such very superior dancing is not often seen. It is evident that you belong to the first circles. Allow me to say, however, that your fair partner does not disgrace you, and that I must hope to have this pleasure often repeated, especially when a certain desirable event, my dear Eliza (glancing at her sister and Bingley) shall take place. What congratulations will then flow in! I appeal to Mr. Darcy:—but let me not interrupt you, sir. You will not thank me for detaining you from the bewitching converse of that young lady, whose bright eyes are also upbraiding me."
"The latter part of this address was scarcely heard by Darcy; but Sir William's allusion to his friend seemed to strike him forcibly, and his eyes were directed with a very serious expression towards Bingley and Jane, who were dancing together. Recovering himself, however, shortly, he turned to his partner, and said, "Sir William's interruption has made me forget what we were talking of."
"I do not think we were speaking at all. Sir William could not have interrupted two people in the room who had less to say for themselves. We have tried two or three subjects already without success, and what we are to talk of next I cannot imagine."
"What think you of books?" said he, smiling.
"Books—oh! no. I am sure we never read the same, or not with the same feelings."
"I am sorry you think so; but if that be the case, there can at least be no want of subject. We may compare our different opinions."
"No—I cannot talk of books in a ball-room; my head is always full of something else."
Chapter 19
"The next day opened a new scene at Longbourn. Mr. Collins made his declaration in form. Having resolved to do it without loss of time, as his leave of absence extended only to the following Saturday….
[The book and the movie are very similar in this scene.]
"Mr. Collins began.
"Believe me, my dear Miss Elizabeth, that your modesty, so far from doing you any disservice, rather adds to your other perfections. You would have been less amiable in my eyes had there not been this little unwillingness; but allow me to assure you, that I have your respected mother's permission for this address. You can hardly doubt the purport of my discourse, however your natural delicacy may lead you to dissemble; my attentions have been too marked to be mistaken. Almost as soon as I entered the house, I singled you out as the companion of my future life. But before I am run away with by my feelings on this subject, perhaps it would be advisable for me to state my reasons for marrying—and, moreover, for coming into Hertfordshire with the design of selecting a wife, as I certainly did."
"The idea of Mr. Collins, with all his solemn composure, being run away with by his feelings, made Elizabeth so near laughing, that she could not use the short pause he allowed in any attempt to stop him further, and he continued:
"My reasons for marrying are, first, that I think it a right thing for every clergyman in easy circumstances (like myself) to set the example of matrimony in his parish; secondly, that I am convinced that it will add very greatly to my happiness; and thirdly—which perhaps I ought to have mentioned earlier, that it is the particular advice and recommendation of the very noble lady whom I have the honour of calling patroness. Twice has she condescended to give me her opinion (unasked too!) on this subject; and it was but the very Saturday night before I left Hunsford—between our pools at quadrille, while Mrs. Jenkinson was arranging Miss de Bourgh's footstool, that she said, 'Mr. Collins, you must marry. A clergyman like you must marry. Choose properly, choose a gentlewoman for my sake; and for your own, let her be an active, useful sort of person, not brought up high, but able to make a small income go a good way. This is my advice. Find such a woman as soon as you can, bring her to Hunsford, and I will visit her.' Allow me, by the way, to observe, my fair cousin, that I do not reckon the notice and kindness of Lady Catherine de Bourgh as among the least of the advantages in my power to offer. You will find her manners beyond anything I can describe; and your wit and vivacity, I think, must be acceptable to her, especially when tempered with the silence and respect which her rank will inevitably excite. Thus much for my general intention in favour of matrimony; it remains to be told why my views were directed towards Longbourn instead of my own neighbourhood, where I can assure you there are many amiable young women. But the fact is, that being, as I am, to inherit this estate after the death of your honoured father (who, however, may live many years longer), I could not satisfy myself without resolving to choose a wife from among his daughters, that the loss to them might be as little as possible, when the melancholy event takes place—which, however, as I have already said, may not be for several years. This has been my motive, my fair cousin, and I flatter myself it will not sink me in your esteem. And now nothing remains for me but to assure you in the most animated language of the violence of my affection. To fortune I am perfectly indifferent, and shall make no demand of that nature on your father, since I am well aware that it could not be complied with; and that one thousand pounds in the four per cents, which will not be yours till after your mother's decease, is all that you may ever be entitled to. On that head, therefore, I shall be uniformly silent; and you may assure yourself that no ungenerous reproach shall ever pass my lips when we are married."
"It was absolutely necessary to interrupt him now.
"You are too hasty, sir," she cried. "You forget that I have made no answer. Let me do it without further loss of time. Accept my thanks for the compliment you are paying me. I am very sensible of the honour of your proposals, but it is impossible for me to do otherwise than to decline them."
"I am not now to learn," replied Mr. Collins, with a formal wave of the hand, "that it is usual with young ladies to reject the addresses of the man whom they secretly mean to accept, when he first applies for their favour; and that sometimes the refusal is repeated a second, or even a third time. I am therefore by no means discouraged by what you have just said, and shall hope to lead you to the altar ere long."
"Upon my word, sir," cried Elizabeth, "your hope is a rather extraordinary one after my declaration. I do assure you that I am not one of those young ladies (if such young ladies there are) who are so daring as to risk their happiness on the chance of being asked a second time. I am perfectly serious in my refusal. You could not make me happy, and I am convinced that I am the last woman in the world who could make you so. Nay, were your friend Lady Catherine to know me, I am persuaded she would find me in every respect ill qualified for the situation."
"Were it certain that Lady Catherine would think so," said Mr. Collins very gravely—"but I cannot imagine that her ladyship would at all disapprove of you. And you may be certain when I have the honour of seeing her again, I shall speak in the very highest terms of your modesty, economy, and other amiable qualification."
"Indeed, Mr. Collins, all praise of me will be unnecessary. You must give me leave to judge for myself, and pay me the compliment of believing what I say. I wish you very happy and very rich, and by refusing your hand, do all in my power to prevent your being otherwise. In making me the offer, you must have satisfied the delicacy of your feelings with regard to my family, and may take possession of Longbourn estate whenever it falls, without any self-reproach. This matter may be considered, therefore, as finally settled." And rising as she thus spoke, she would have quitted the room, had Mr. Collins not thus addressed her:
"When I do myself the honour of speaking to you next on the subject, I shall hope to receive a more favourable answer than you have now given me; though I am far from accusing you of cruelty at present, because I know it to be the established custom of your sex to reject a man on the first application, and perhaps you have even now said as much to encourage my suit as would be consistent with the true delicacy of the female character."
"Really, Mr. Collins," cried Elizabeth with some warmth, "you puzzle me exceedingly. If what I have hitherto said can appear to you in the form of encouragement, I know not how to express my refusal in such a way as to convince you of its being one."
"You must give me leave to flatter myself, my dear cousin, that your refusal of my addresses is merely words of course. My reasons for believing it are briefly these: It does not appear to me that my hand is unworthy of your acceptance, or that the establishment I can offer would be any other than highly desirable. My situation in life, my connections with the family of de Bourgh, and my relationship to your own, are circumstances highly in my favour; and you should take it into further consideration, that in spite of your manifold attractions, it is by no means certain that another offer of marriage may ever be made you. Your portion is unhappily so small that it will in all likelihood undo the effects of your loveliness and amiable qualifications. As I must therefore conclude that you are not serious in your rejection of me, I shall choose to attribute it to your wish of increasing my love by suspense, according to the usual practice of elegant females."
"I do assure you, sir, that I have no pretensions whatever to that kind of elegance which consists in tormenting a respectable man. I would rather be paid the compliment of being believed sincere. I thank you again and again for the honour you have done me in your proposals, but to accept them is absolutely impossible. My feelings in every respect forbid it. Can I speak plainer? Do not consider me now as an elegant female, intending to plague you, but as a rational creature, speaking the truth from her heart."
"You are uniformly charming!" cried he, with an air of awkward gallantry; "and I am persuaded that when sanctioned by the express authority of both your excellent parents, my proposals will not fail of being acceptable."
"To such perseverance in wilful self-deception Elizabeth would make no reply, and immediately and in silence withdrew; determined, if he persisted in considering her repeated refusals as flattering encouragement, to apply to her father, whose negative might be uttered in such a manner as to be decisive, and whose behaviour at least could not be mistaken for the affectation and coquetry of an elegant female."
Chapter 21
[In Chapter 21, the Bingley's suddenly leave the area, and Miss Bingley writes letter saying that they will not return.]
"What do you think of this sentence, my dear Lizzy?" said Jane as she finished it. "Is it not clear enough? Does it not expressly declare that Caroline neither expects nor wishes me to be her sister; that she is perfectly convinced of her brother's indifference; and that if she suspects the nature of my feelings for him, she means (most kindly!) to put me on my guard? Can there be any other opinion on the subject?"
"Yes, there can; for mine is totally different. Will you hear it?"
"Most willingly."
"You shall have it in a few words. Miss Bingley sees that her brother is in love with you, and wants him to marry Miss Darcy. She follows him to town in hope of keeping him there, and tries to persuade you that he does not care about you."
Jane shook her head.
"Indeed, Jane, you ought to believe me. No one who has ever seen you together can doubt his affection. Miss Bingley, I am sure, cannot. She is not such a simpleton. Could she have seen half as much love in Mr. Darcy for herself, she would have ordered her wedding clothes. But the case is this: We are not rich enough or grand enough for them; and she is the more anxious to get Miss Darcy for her brother, from the notion that when there has been one intermarriage, she may have less trouble in achieving a second; in which there is certainly some ingenuity, and I dare say it would succeed, if Miss de Bourgh were out of the way. But, my dearest Jane, you cannot seriously imagine that because Miss Bingley tells you her brother greatly admires Miss Darcy, he is in the smallest degree less sensible of your merit than when he took leave of you on Tuesday, or that it will be in her power to persuade him that, instead of being in love with you, he is very much in love with her friend."
Chapter 22
[In Chapter 22, Mr. Collins proposes to Elizabeth's friend Charlotte Lucas.]
"The possibility of Mr. Collins's fancying himself in love with her friend had once occurred to Elizabeth within the last day or two; but that Charlotte could encourage him seemed almost as far from possibility as she could encourage him herself, and her astonishment was consequently so great as to overcome at first the bounds of decorum, and she could not help crying out:
"Engaged to Mr. Collins! My dear Charlotte—impossible!"
"The steady countenance which Miss Lucas had commanded in telling her story, gave way to a momentary confusion here on receiving so direct a reproach; though, as it was no more than she expected, she soon regained her composure, and calmly replied:
"Why should you be surprised, my dear Eliza? Do you think it incredible that Mr. Collins should be able to procure any woman's good opinion, because he was not so happy as to succeed with you?"
"But Elizabeth had now recollected herself, and making a strong effort for it, was able to assure with tolerable firmness that the prospect of their relationship was highly grateful to her, and that she wished her all imaginable happiness.
"I see what you are feeling," replied Charlotte. "You must be surprised, very much surprised—so lately as Mr. Collins was wishing to marry you. But when you have had time to think it over, I hope you will be satisfied with what I have done. I am not romantic, you know; I never was. I ask only a comfortable home; and considering Mr. Collins's character, connection, and situation in life, I am convinced that my chance of happiness with him is as fair as most people can boast on entering the marriage state."
"Elizabeth quietly answered "Undoubtedly;" and after an awkward pause, they returned to the rest of the family. Charlotte did not stay much longer, and Elizabeth was then left to reflect on what she had heard. It was a long time before she became at all reconciled to the idea of so unsuitable a match. The strangeness of Mr. Collins's making two offers of marriage within three days was nothing in comparison of his being now accepted. She had always felt that Charlotte's opinion of matrimony was not exactly like her own, but she had not supposed it to be possible that, when called into action, she would have sacrificed every better feeling to worldly advantage. Charlotte the wife of Mr. Collins was a most humiliating picture! And to the pang of a friend disgracing herself and sunk in her esteem, was added the distressing conviction that it was impossible for that friend to be tolerably happy in the lot she had chosen."
Chapter 25
[In Chapter 25, Mrs. Bennet's brother, Mr. Gardiner and his family arrive to celebrate Christmas with their relatives.]
Chapter 28
[In Chapter 28, Elizabeth goes to visit her friend Charlotte, who is now married to Mr. Collins.]
"Every object in the next day's journey was new and interesting to Elizabeth; and her spirits were in a state of enjoyment; for she had seen her sister looking so well as to banish all fear for her health, and the prospect of her northern tour was a constant source of delight.
"When they left the high road for the lane to Hunsford, every eye was in search of the Parsonage, and every turning expected to bring it in view. The palings of Rosings Park was their boundary on one side. Elizabeth smiled at the recollection of all that she had heard of its inhabitants.
"At length the Parsonage was discernible. The garden sloping to the road, the house standing in it, the green pales, and the laurel hedge, everything declared they were arriving. Mr. Collins and Charlotte appeared at the door, and the carriage stopped at the small gate which led by a short gravel walk to the house, amidst the nods and smiles of the whole party. In a moment they were all out of the chaise, rejoicing at the sight of each other. Mrs. Collins welcomed her friend with the liveliest pleasure, and Elizabeth was more and more satisfied with coming when she found herself so affectionately received. She saw instantly that her cousin's manners were not altered by his marriage; his formal civility was just what it had been, and he detained her some minutes at the gate to hear and satisfy his inquiries after all her family. They were then, with no other delay than his pointing out the neatness of the entrance, taken into the house; and as soon as they were in the parlour, he welcomed them a second time, with ostentatious formality to his humble abode, and punctually repeated all his wife's offers of refreshment."
Chapter 29
[In Chapter 29, Elizabeth joins the Collins, as they visit Lady Catherine de Bourgh."
"L
ady Catherine was a tall, large woman, with strongly-marked features, which might once have been handsome. Her air was not conciliating, nor was her manner of receiving them such as to make her visitors forget their inferior rank. She was not rendered formidable by silence; but whatever she said was spoken in so authoritative a tone, as marked her self-importance….
"The party did not supply much conversation. Elizabeth was ready to speak whenever there was an opening, but she was seated between Charlotte and Miss de Bourgh—the former of whom was engaged in listening to Lady Catherine, and the latter said not a word to her all dinner-time…..
"When the ladies returned to the drawing-room, there was little to be done but to hear Lady Catherine talk, which she did without any intermission till coffee came in, delivering her opinion on every subject in so decisive a manner, as proved that she was not used to have her judgement controverted. She inquired into Charlotte's domestic concerns familiarly and minutely, gave her a great deal of advice as to the management of them all; told her how everything ought to be regulated in so small a family as hers, and instructed her as to the care of her cows and her poultry. ….Elizabeth found that nothing was beneath this great lady's attention, which could furnish her with an occasion of dictating to others. …Elizabeth felt all the impertinence of her questions but answered them very composedly…
[This scene is very much like the movie.]
"Do you play and sing, Miss Bennet?"
"A little."
"Oh! then—some time or other we shall be happy to hear you. Our instrument is a capital one, probably superior to——You shall try it some day. Do your sisters play and sing?"
"One of them does."
"Why did not you all learn? You ought all to have learned. The Miss Webbs all play, and their father has not so good an income as yours. Do you draw?"
"No, not at all."
"What, none of you?"
"Not one."
"That is very strange. But I suppose you had no opportunity. Your mother should have taken you to town every spring for the benefit of masters."
"My mother would have had no objection, but my father hates London."
"Has your governess left you?"
"We never had any governess."
"No governess! How was that possible? Five daughters brought up at home without a governess! I never heard of such a thing. Your mother must have been quite a slave to your education."
Elizabeth could hardly help smiling as she assured her that had not been the case.
"Then, who taught you? who attended to you? Without a governess, you must have been neglected."
"Compared with some families, I believe we were; but such of us as wished to learn never wanted the means. We were always encouraged to read, and had all the masters that were necessary. Those who chose to be idle, certainly might."
"Aye, no doubt; but that is what a governess will prevent, and if I had known your mother, I should have advised her most strenuously to engage one. I always say that nothing is to be done in education without steady and regular instruction, and nobody but a governess can give it. It is wonderful how many families I have been the means of supplying in that way. I am always glad to get a young person well placed out. Four nieces of Mrs. Jenkinson are most delightfully situated through my means; and it was but the other day that I recommended another young person, who was merely accidentally mentioned to me, and the family are quite delighted with her. Mrs. Collins, did I tell you of Lady Metcalf's calling yesterday to thank me? She finds Miss Pope a treasure. 'Lady Catherine,' said she, 'you have given me a treasure.' Are any of your younger sisters out, Miss Bennet?"
"Yes, ma'am, all."
"All! What, all five out at once? Very odd! And you only the second. The younger ones out before the elder ones are married! Your younger sisters must be very young?"
"Yes, my youngest is not sixteen. Perhaps she is full young to be much in company. But really, ma'am, I think it would be very hard upon younger sisters, that they should not have their share of society and amusement, because the elder may not have the means or inclination to marry early. The last-born has as good a right to the pleasures of youth as the first. And to be kept back on such a motive! I think it would not be very likely to promote sisterly affection or delicacy of mind."
"Upon my word," said her ladyship, "you give your opinion very decidedly for so young a person. Pray, what is your age?"
"With three younger sisters grown up," replied Elizabeth, smiling, "your ladyship can hardly expect me to own it."
Lady Catherine seemed quite astonished at not receiving a direct answer; and Elizabeth suspected herself to be the first creature who had ever dared to trifle with so much dignified impertinence.
"You cannot be more than twenty, I am sure, therefore you need not conceal your age."
Chapter 30
[In Chapter 30, Mr. Darcy comes to the town where the Collins live. His friend Colonel Fitzwilliam was with him. All of them meet at Lady Catherine's house. The subject of playing the piano arises again, and we discover that Mr. Darcy's younger sister is a fine pianist. Elizabeth is asked to play the piano for the group.]
"My fingers," said Elizabeth, "do not move over this instrument in the masterly manner which I see so many women's do. They have not the same force or rapidity, and do not produce the same expression. But then I have always supposed it to be my own fault—because I will not take the trouble of practising. It is not that I do not believe my fingers as capable as any other woman's of superior execution."
"Darcy smiled and said, "You are perfectly right. You have employed your time much better. No one admitted to the privilege of hearing you can think anything wanting. We neither of us perform to strangers."
"Here they were interrupted by Lady Catherine, who called out to know what they were talking of. Elizabeth immediately began playing again. Lady Catherine approached, and, after listening for a few minutes, said to Darcy:
"Miss Bennet would not play at all amiss if she practised more, and could have the advantage of a London master. She has a very good notion of fingering, though her taste is not equal to Anne's. Anne would have been a delightful performer, had her health allowed her to learn."
Chapter 33
[In Chapter 33, Elizabeth happens upon Colonel Fitzwilliam and in their conversation, she discovers that Mr. Darcy was known to have taken a great deal of interest in the affairs of Mr. Bingley and to have advised him on important matters.]
"I have reason to think Bingley very much indebted to him. But I ought to beg his pardon, for I have no right to suppose that Bingley was the person meant. It was all conjecture."
"What is it you mean?"
"It is a circumstance which Darcy could not wish to be generally known, because if it were to get round to the lady's family, it would be an unpleasant thing."
"You may depend upon my not mentioning it."
"And remember that I have not much reason for supposing it to be Bingley. What he told me was merely this: that he congratulated himself on having lately saved a friend from the inconveniences of a most imprudent marriage, but without mentioning names or any other particulars, and I only suspected it to be Bingley from believing him the kind of young man to get into a scrape of that sort, and from knowing them to have been together the whole of last summer."
"Did Mr. Darcy give you reasons for this interference?"
"I understood that there were some very strong objections against the lady."
"And what arts did he use to separate them?"
"He did not talk to me of his own arts," said Fitzwilliam, smiling. "He only told me what I have now told you." …
"This was spoken jestingly; but it appeared to her so just a picture of Mr. Darcy, that she would not trust herself with an answer, and therefore, abruptly changing the conversation talked on indifferent matters until they reached the Parsonage. There, shut into her own room, as soon as their visitor left them, she could think without interruption of all that she had heard. It was not to be supposed that any other people could be meant than those with whom she was connected. There could not exist in the world two men over whom Mr. Darcy could have such boundless influence. That he had been concerned in the measures taken to separate Bingley and Jane she had never doubted; but she had always attributed to Miss Bingley the principal design and arrangement of them. If his own vanity, however, did not mislead him, he was the cause, his pride and caprice were the cause, of all that Jane had suffered, and still continued to suffer. He had ruined for a while every hope of happiness for the most affectionate, generous heart in the world; and no one could say how lasting an evil he might have inflicted.
"There were some very strong objections against the lady," were Colonel Fitzwilliam's words; and those strong objections probably were, her having one uncle who was a country attorney, and another who was in business in London.
"To Jane herself," she exclaimed, "there could be no possibility of objection; all loveliness and goodness as she is!—her understanding excellent, her mind improved, and her manners captivating. Neither could anything be urged against my father, who, though with some peculiarities, has abilities Mr. Darcy himself need not disdain, and respectability which he will probably never reach." When she thought of her mother, her confidence gave way a little; but she would not allow that any objections there had material weight with Mr. Darcy, whose pride, she was convinced, would receive a deeper wound from the want of importance in his friend's connections, than from their want of sense; and she was quite decided, at last, that he had been partly governed by this worst kind of pride, and partly by the wish of retaining Mr. Bingley for his sister.
Chapter 34
[Elizabeth was so very upset by what she had learned that she did not join everyone, as they went to Lady Catherine's for tea. She said that she was ill and wanted to stay home. Soon afterward, Mr. Darcy knocks on the door and professes his love to Elizabeth. This scene is also very similar to that in the movie.]
"In vain I have struggled. It will not do. My feelings will not be repressed. You must allow me to tell you how ardently I admire and love you."
Elizabeth's astonishment was beyond expression. She stared, coloured, doubted, and was silent. This he considered sufficient encouragement; and the avowal of all that he felt, and had long felt for her, immediately followed. He spoke well; but there were feelings besides those of the heart to be detailed; and he was not more eloquent on the subject of tenderness than of pride. His sense of her inferiority—of its being a degradation—of the family obstacles which had always opposed to inclination, were dwelt on with a warmth which seemed due to the consequence he was wounding, but was very unlikely to recommend his suit.
In spite of her deeply-rooted dislike, she could not be insensible to the compliment of such a man's affection, and though her intentions did not vary for an instant, she was at first sorry for the pain he was to receive; till, roused to resentment by his subsequent language, she lost all compassion in anger. She tried, however, to compose herself to answer him with patience, when he should have done. He concluded with representing to her the strength of that attachment which, in spite of all his endeavours, he had found impossible to conquer; and with expressing his hope that it would now be rewarded by her acceptance of his hand. As he said this, she could easily see that he had no doubt of a favourable answer. He spoke of apprehension and anxiety, but his countenance expressed real security. Such a circumstance could only exasperate farther, and, when he ceased, the colour rose into her cheeks, and she said:
"In such cases as this, it is, I believe, the established mode to express a sense of obligation for the sentiments avowed, however unequally they may be returned. It is natural that obligation should be felt, and if I couldfeel gratitude, I would now thank you. But I cannot—I have never desired your good opinion, and you have certainly bestowed it most unwillingly. I am sorry to have occasioned pain to anyone. It has been most unconsciously done, however, and I hope will be of short duration. The feelings which, you tell me, have long prevented the acknowledgment of your regard, can have little difficulty in overcoming it after this explanation."
Mr. Darcy, who was leaning against the mantelpiece with his eyes fixed on her face, seemed to catch her words with no less resentment than surprise. His complexion became pale with anger, and the disturbance of his mind was visible in every feature. He was struggling for the appearance of composure, and would not open his lips till he believed himself to have attained it. The pause was to Elizabeth's feelings dreadful. At length, with a voice of forced calmness, he said:
"And this is all the reply which I am to have the honour of expecting! I might, perhaps, wish to be informed why, with so little endeavour at civility, I am thus rejected. But it is of small importance."
"I might as well inquire," replied she, "why with so evident a desire of offending and insulting me, you chose to tell me that you liked me against your will, against your reason, and even against your character? Was not this some excuse for incivility, if I was uncivil? But I have other provocations. You know I have. Had not my feelings decided against you—had they been indifferent, or had they even been favourable, do you think that any consideration would tempt me to accept the man who has been the means of ruining, perhaps for ever, the happiness of a most beloved sister?"
As she pronounced these words, Mr. Darcy changed colour; but the emotion was short, and he listened without attempting to interrupt her while she continued:
"I have every reason in the world to think ill of you. No motive can excuse the unjust and ungenerous part you acted there. You dare not, you cannot deny, that you have been the principal, if not the only means of dividing them from each other—of exposing one to the censure of the world for caprice and instability, and the other to its derision for disappointed hopes, and involving them both in misery of the acutest kind."
She paused, and saw with no slight indignation that he was listening with an air which proved him wholly unmoved by any feeling of remorse. He even looked at her with a smile of affected incredulity.
"Can you deny that you have done it?" she repeated.
With assumed tranquillity he then replied: "I have no wish of denying that I did everything in my power to separate my friend from your sister, or that I rejoice in my success. Towards him I have been kinder than towards myself."
Elizabeth disdained the appearance of noticing this civil reflection, but its meaning did not escape, nor was it likely to conciliate her.
"But it is not merely this affair," she continued, "on which my dislike is founded. Long before it had taken place my opinion of you was decided. Your character was unfolded in the recital which I received many months ago from Mr. Wickham. On this subject, what can you have to say? In what imaginary act of friendship can you here defend yourself? or under what misrepresentation can you here impose upon others?"
"You take an eager interest in that gentleman's concerns," said Darcy, in a less tranquil tone, and with a heightened colour.
"Who that knows what his misfortunes have been, can help feeling an interest in him?"
"His misfortunes!" repeated Darcy contemptuously; "yes, his misfortunes have been great indeed."
"But it is not merely this affair," she continued, "on which my dislike is founded. Long before it had taken place my opinion of you was decided. Your character was unfolded in the recital which I received many months ago from Mr. Wickham. On this subject, what can you have to say? In what imaginary act of friendship can you here defend yourself? or under what misrepresentation can you here impose upon others?"
"You take an eager interest in that gentleman's concerns," said Darcy, in a less tranquil tone, and with a heightened colour.
"Who that knows what his misfortunes have been, can help feeling an interest in him?"
"His misfortunes!" repeated Darcy contemptuously; "yes, his misfortunes have been great indeed."
"And of your infliction," cried Elizabeth with energy. "You have reduced him to his present state of poverty—comparative poverty. You have withheld the advantages which you must know to have been designed for him. You have deprived the best years of his life of that independence which was no less his due than his desert. You have done all this! and yet you can treat the mention of his misfortune with contempt and ridicule."
"And this," cried Darcy, as he walked with quick steps across the room, "is your opinion of me! This is the estimation in which you hold me! I thank you for explaining it so fully. My faults, according to this calculation, are heavy indeed! But perhaps," added he, stopping in his walk, and turning towards her, "these offenses might have been overlooked, had not your pride been hurt by my honest confession of the scruples that had long prevented my forming any serious design. These bitter accusations might have been suppressed, had I, with greater policy, concealed my struggles, and flattered you into the belief of my being impelled by unqualified, unalloyed inclination; by reason, by reflection, by everything. But disguise of every sort is my abhorrence. Nor am I ashamed of the feelings I related. They were natural and just. Could you expect me to rejoice in the inferiority of your connections?—to congratulate myself on the hope of relations, whose condition in life is so decidedly beneath my own?"
Elizabeth felt herself growing more angry every moment; yet she tried to the utmost to speak with composure when she said:
"You are mistaken, Mr. Darcy, if you suppose that the mode of your declaration affected me in any other way, than as it spared me the concern which I might have felt in refusing you, had you behaved in a more gentlemanlike manner."
She saw him start at this, but he said nothing, and she continued:
"You could not have made the offer of your hand in any possible way that would have tempted me to accept it."
Again his astonishment was obvious; and he looked at her with an expression of mingled incredulity and mortification. She went on:
"From the very beginning—from the first moment, I may almost say—of my acquaintance with you, your manners, impressing me with the fullest belief of your arrogance, your conceit, and your selfish disdain of the feelings of others, were such as to form the groundwork of disapprobation on which succeeding events have built so immovable a dislike; and I had not known you a month before I felt that you were the last man in the world whom I could ever be prevailed on to marry."
"You have said quite enough, madam. I perfectly comprehend your feelings, and have now only to be ashamed of what my own have been. Forgive me for having taken up so much of your time, and accept my best wishes for your health and happiness."
Chapter 35
[In Chapter 35, Darcy delivers a letter to Elizabeth and in it, he tries to explain his motives in separating Bingley from Jane, and he makes it clear that Wickham had deceived her.]
Chapter 36
"How differently did everything now appear in which he was concerned! His attentions to Miss King were now the consequence of views solely and hatefully mercenary; and the mediocrity of her fortune proved no longer the moderation of his wishes, but his eagerness to grasp at anything. His behaviour to herself could now have had no tolerable motive; he had either been deceived with regard to her fortune, or had been gratifying his vanity by encouraging the preference which she believed she had most incautiously shown. Every lingering struggle in his favour grew fainter and fainter; and in farther justification of Mr. Darcy, she could not but allow that Mr. Bingley, when questioned by Jane, had long ago asserted his blamelessness in the affair; that proud and repulsive as were his manners, she had never, in the whole course of their acquaintance—an acquaintance which had latterly brought them much together, and given her a sort of intimacy with his ways—seen anything that betrayed him to be unprincipled or unjust—anything that spoke him of irreligious or immoral habits; that among his own connections he was esteemed and valued—that even Wickham had allowed him merit as a brother, and that she had often heard him speak so affectionately of his sister as to prove him capable of some amiable feeling; that had his actions been what Mr. Wickham represented them, so gross a violation of everything right could hardly have been concealed from the world; and that friendship between a person capable of it, and such an amiable man as Mr. Bingley, was incomprehensible.
She grew absolutely ashamed of herself. Of neither Darcy nor Wickham could she think without feeling she had been blind, partial, prejudiced, absurd.
"How despicably I have acted!" she cried; "I, who have prided myself on my discernment! I, who have valued myself on my abilities! who have often disdained the generous candour of my sister, and gratified my vanity in useless or blameable mistrust! How humiliating is this discovery! Yet, how just a humiliation! Had I been in love, I could not have been more wretchedly blind! But vanity, not love, has been my folly. Pleased with the preference of one, and offended by the neglect of the other, on the very beginning of our acquaintance, I have courted prepossession and ignorance, and driven reason away, where either were concerned. Till this moment I never knew myself."
Chapter 42
[In Chapter 42, Elizabeth agrees to travel to Derbyshire with her Aunt and Uncle Gardiner. This is where Mr. Darcy's estate Pemberley is located. Mrs. Gardiner proposes that they tour Mr. Darcy's home, but Elizabeth was afraid of seeing him there. Elizabeth is told that the Darcys were away, and she agreed to the tour.]
Chapter 43
[In Chapter 43, Elizabeth and Darcy do indeed see each other. The scene is not while his sister is playing the piano, as it was in the movie, but the meeting was out on the ground.]
"They were within twenty yards of each other, and so abrupt was his appearance, that it was impossible to avoid his sight. Their eyes instantly met, and the cheeks of both were overspread with the deepest blush. He absolutely started, and for a moment seemed immovable from surprise; but shortly recovering himself, advanced towards the party, and spoke to Elizabeth, if not in terms of perfect composure, at least of perfect civility.
"She had instinctively turned away; but stopping on his approach, received his compliments with an embarrassment impossible to be overcome. Had his first appearance, or his resemblance to the picture they had just been examining, been insufficient to assure the other two that they now saw Mr. Darcy, the gardener's expression of surprise, on beholding his master, must immediately have told it. They stood a little aloof while he was talking to their niece, who, astonished and confused, scarcely dared lift her eyes to his face, and knew not what answer she returned to his civil inquiries after her family. Amazed at the alteration of his manner since they last parted, every sentence that he uttered was increasing her embarrassment; and every idea of the impropriety of her being found there recurring to her mind, the few minutes in which they continued were some of the most uncomfortable in her life. Nor did he seem much more at ease; when he spoke, his accent had none of its usual sedateness; and he repeated his inquiries as to the time of her having left Longbourn, and of her having stayed in Derbyshire, so often, and in so hurried a way, as plainly spoke the distraction of his thoughts.
"At length every idea seemed to fail him; and, after standing a few moments without saying a word, he suddenly recollected himself, and took leave."
[Elizabeth and the Gardiners continue touring the gardens and the woods, and Darcy cam back and joined the group again.]
"There is also one other person in the party," he continued after a pause, "who more particularly wishes to be known to you. Will you allow me, or do I ask too much, to introduce my sister to your acquaintance during your stay at Lambton?"
"The surprise of such an application was great indeed; it was too great for her to know in what manner she acceded to it. She immediately felt that whatever desire Miss Darcy might have of being acquainted with her must be the work of her brother, and, without looking farther, it was satisfactory; it was gratifying to know that his resentment had not made him think really ill of her."
Chapter 44
"Elizabeth had settled it that Mr. Darcy would bring his sister to visit her the very day after her reaching Pemberley; and was consequently resolved not to be out of sight of the inn the whole of that morning. But her conclusion was false; for on the very morning after their arrival at Lambton, these visitors came. They had been walking about the place with some of their new friends, and were just returning to the inn to dress themselves for dining with the same family, when the sound of a carriage drew them to a window, and they saw a gentleman and a lady in a curricle driving up the street. Elizabeth immediately recognizing the livery, guessed what it meant, and imparted no small degree of her surprise to her relations by acquainting them with the honour which she expected…..
"They had not long been together before Mr. Darcy told her that Bingley was also coming to wait on her; and she had barely time to express her satisfaction, and prepare for such a visitor, when Bingley's quick step was heard on the stairs, and in a moment he entered the room. All Elizabeth's anger against him had been long done away; but had she still felt any, it could hardly have stood its ground against the unaffected cordiality with which he expressed himself on seeing her again. He inquired in a friendly, though general way, after her family, and looked and spoke with the same good-humoured ease that he had ever done."
Chapter 45
[Elizabeth and her aunt and uncle were invited to have dinner at Pemberley the next day. Bingley and his sister were also there. Miss Bingley was jealous of Elizabeth and every time that she could, she spoke negatively of her to Darcy.]
"Persuaded as Miss Bingley was that Darcy admired Elizabeth, this was not the best method of recommending herself; but angry people are not always wise; and in seeing him at last look somewhat nettled, she had all the success she expected. He was resolutely silent, however, and, from a determination of making him speak, she continued:
"I remember, when we first knew her in Hertfordshire, how amazed we all were to find that she was a reputed beauty; and I particularly recollect your saying one night, after they had been dining at Netherfield, 'She a beauty!—I should as soon call her mother a wit.' But afterwards she seemed to improve on you, and I believe you thought her rather pretty at one time."
"Yes," replied Darcy, who could contain himself no longer, "but that was only when I first saw her, for it is many months since I have considered her as one of the handsomest women of my acquaintance."
"He then went away, and Miss Bingley was left to all the satisfaction of having forced him to say what gave no one any pain but herself."
Chapter 46
[In Chapter 46, Elizabeth receives a letter from Jane, and in the letter, Jane says that their youngest sister had run away with Wickham.]
"Oh! where, where is my uncle?" cried Elizabeth, darting from her seat as she finished the letter, in eagerness to follow him, without losing a moment of the time so precious; but as she reached the door it was opened by a servant, and Mr. Darcy appeared. Her pale face and impetuous manner made him start, and before he could recover himself to speak, she, in whose mind every idea was superseded by Lydia's situation, hastily exclaimed, "I beg your pardon, but I must leave you. I must find Mr. Gardiner this moment, on business that cannot be delayed; I have not an instant to lose."
"Good God! what is the matter?" cried he, with more feeling than politeness; then recollecting himself, "I will not detain you a minute; but let me, or let the servant go after Mr. and Mrs. Gardiner. You are not well enough; you cannot go yourself."..
"She burst into tears as she alluded to it, and for a few minutes could not speak another word. Darcy, in wretched suspense, could only say something indistinctly of his concern, and observe her in compassionate silence. At length she spoke again. "I have just had a letter from Jane, with such dreadful news. It cannot be concealed from anyone. My younger sister has left all her friends—has eloped; has thrown herself into the power of—of Mr. Wickham. They are gone off together from Brighton. You know him too well to doubt the rest. She has no money, no connections, nothing that can tempt him to—she is lost for ever."
"Darcy was fixed in astonishment. "When I consider," she added in a yet more agitated voice, "that I might have prevented it! I, who knew what he was. Had I but explained some part of it only—some part of what I learnt, to my own family! Had his character been known, this could not have happened. But it is all—all too late now."
"I am grieved indeed," cried Darcy; "grieved—shocked. But is it certain—absolutely certain?"
"Oh, yes! They left Brighton together on Sunday night, and were traced almost to London, but not beyond; they are certainly not gone to Scotland."
"And what has been done, what has been attempted, to recover her?"
"My father is gone to London, and Jane has written to beg my uncle's immediate assistance; and we shall be off, I hope, in half-an-hour. But nothing can be done—I know very well that nothing can be done. How is such a man to be worked on? How are they even to be discovered? I have not the smallest hope. It is every way horrible!"
"Darcy shook his head in silent acquiescence."
[Elizabeth and her relatives returned to her home, and her uncle said that he would go to London and help find Lydia. A few days later, the family gets a letter saying that the couple had been found and that Wickham had agreed to marry Lydia. Elizabeth immediately realizes that money had been exchanged to motivate Wickham. Everyone assumed that the uncle had supplied the monetary motivation.]
Chapter 51
"Their sister's wedding day arrived; and Jane and Elizabeth felt for her probably more than she felt for herself. The carriage was sent to meet them at ——, and they were to return in it by dinner-time. Their arrival was dreaded by the elder Miss Bennets, and Jane more especially, who gave Lydia the feelings which would have attended herself, had she been the culprit, and was wretched in the thought of what her sister must endure.
"They came. The family were assembled in the breakfast room to receive them. Smiles decked the face of Mrs. Bennet as the carriage drove up to the door; her husband looked impenetrably grave; her daughters, alarmed, anxious, uneasy.
"Lydia's voice was heard in the vestibule; the door was thrown open, and she ran into the room. Her mother stepped forwards, embraced her, and welcomed her with rapture; gave her hand, with an affectionate smile, to Wickham, who followed his lady; and wished them both joy with an alacrity which shewed no doubt of their happiness. …
"There was no want of discourse. The bride and her mother could neither of them talk fast enough; and Wickham, who happened to sit near Elizabeth, began inquiring after his acquaintance in that neighbourhood, with a good humoured ease which she felt very unable to equal in her replies. They seemed each of them to have the happiest memories in the world. Nothing of the past was recollected with pain; and Lydia led voluntarily to subjects which her sisters would not have alluded to for the world….
"Elizabeth could bear it no longer. She got up, and ran out of the room; and returned no more, till she heard them passing through the hall to the dining parlour. She then joined them soon enough to see Lydia, with anxious parade, walk up to her mother's right hand, and hear her say to her eldest sister, "Ah! Jane, I take your place now, and you must go lower, because I am a married woman."
"It was not to be supposed that time would give Lydia that embarrassment from which she had been so wholly free at first. Her ease and good spirits increased. She longed to see Mrs. Phillips, the Lucases, and all their other neighbours, and to hear herself called "Mrs. Wickham" by each of them; and in the mean time, she went after dinner to show her ring, and boast of being married, to Mrs. Hill and the two housemaids….
"No one but Mrs. Bennet regretted that their stay would be so short; and she made the most of the time by visiting about with her daughter, and having very frequent parties at home. These parties were acceptable to all; to avoid a family circle was even more desirable to such as did think, than such as did not.
"Wickham's affection for Lydia was just what Elizabeth had expected to find it; not equal to Lydia's for him. She had scarcely needed her present observation to be satisfied, from the reason of things, that their elopement had been brought on by the strength of her love, rather than by his; and she would have wondered why, without violently caring for her, he chose to elope with her at all, had she not felt certain that his flight was rendered necessary by distress of circumstances; and if that were the case, he was not the young man to resist an opportunity of having a companion."
"Lydia was exceedingly fond of him. He was her dear Wickham on every occasion; no one was to be put in competition with him. He did every thing best in the world; and she was sure he would kill more birds on the first of September, than any body else in the country. …
"One morning, soon after their arrival, as she was sitting with her two elder sisters, she said to Elizabeth:
"Lizzy, I never gave you an account of my wedding, I believe. You were not by, when I told mamma and the others all about it. Are not you curious to hear how it was managed?"
"No really," replied Elizabeth; "I think there cannot be too little said on the subject."
"La! You are so strange! But I must tell you how it went off. We were married, you know, at St. Clement's, because Wickham's lodgings were in that parish. And it was settled that we should all be there by eleven o'clock. My uncle and aunt and I were to go together; and the others were to meet us at the church. Well, Monday morning came, and I was in such a fuss! I was so afraid, you know, that something would happen to put it off, and then I should have gone quite distracted. And there was my aunt, all the time I was dressing, preaching and talking away just as if she was reading a sermon. However, I did not hear above one word in ten, for I was thinking, you may suppose, of my dear Wickham. I longed to know whether he would be married in his blue coat."
"Well, and so we breakfasted at ten as usual; I thought it would never be over; for, by the bye, you are to understand, that my uncle and aunt were horrid unpleasant all the time I was with them. If you'll believe me, I did not once put my foot out of doors, though I was there a fortnight. Not one party, or scheme, or anything. To be sure London was rather thin, but, however, the Little Theatre was open. Well, and so just as the carriage came to the door, my uncle was called away upon business to that horrid man Mr. Stone. And then, you know, when once they get together, there is no end of it. Well, I was so frightened I did not know what to do, for my uncle was to give me away; and if we were beyond the hour, we could not be married all day. But, luckily, he came back again in ten minutes' time, and then we all set out. However, I recollected afterwards that if he had been prevented going, the wedding need not be put off, for Mr. Darcy might have done as well."
"Mr. Darcy!" repeated Elizabeth, in utter amazement.
"Oh, yes!—he was to come there with Wickham, you know. But gracious me! I quite forgot! I ought not to have said a word about it. I promised them so faithfully! What will Wickham say? It was to be such a secret!"
Chapter 52
"Elizabeth had the satisfaction of receiving an answer to her letter as soon as she possibly could. She was no sooner in possession of it than, hurrying into the little copse, where she was least likely to be interrupted, she sat down on one of the benches and prepared to be happy; for the length of the letter convinced her that it did not contain a denial.
"Gracechurch street, Sept. 6.
"MY DEAR NIECE,
"I have just received your letter, and shall devote this whole morning to answering it, as I foresee that a little writing will not comprise what I have to tell you. I must confess myself surprised by your application; I did not expect it from you. Don't think me angry, however, for I only mean to let you know that I had not imagined such inquiries to be necessary on your side. If you do not choose to understand me, forgive my impertinence. Your uncle is as much surprised as I am—and nothing but the belief of your being a party concerned would have allowed him to act as he has done. But if you are really innocent and ignorant, I must be more explicit.
"On the very day of my coming home from Longbourn, your uncle had a most unexpected visitor. Mr. Darcy called, and was shut up with him several hours. It was all over before I arrived; so my curiosity was not so dreadfully racked as yours seems to have been. He came to tell Mr. Gardiner that he had found out where your sister and Mr. Wickham were, and that he had seen and talked with them both; Wickham repeatedly, Lydia once. From what I can collect, he left Derbyshire only one day after ourselves, and came to town with the resolution of hunting for them. The motive professed was his conviction of its being owing to himself that Wickham's worthlessness had not been so well known as to make it impossible for any young woman of character to love or confide in him. He generously imputed the whole to his mistaken pride, and confessed that he had before thought it beneath him to lay his private actions open to the world. His character was to speak for itself. He called it, therefore, his duty to step forward, and endeavour to remedy an evil which had been brought on by himself. If he had another motive, I am sure it would never disgrace him. He had been some days in town, before he was able to discover them; but he had something to direct his search, which was more than we had; and the consciousness of this was another reason for his resolving to follow us….
"He saw Wickham, and afterwards insisted on seeing Lydia. His first object with her, he acknowledged, had been to persuade her to quit her present disgraceful situation, and return to her friends as soon as they could be prevailed on to receive her, offering his assistance, as far as it would go. But he found Lydia absolutely resolved on remaining where she was. She cared for none of her friends; she wanted no help of his; she would not hear of leaving Wickham. She was sure they should be married some time or other, and it did not much signify when. Since such were her feelings, it only remained, he thought, to secure and expedite a marriage, which, in his very first conversation with Wickham, he easily learnt had never been his design. He confessed himself obliged to leave the regiment, on account of some debts of honour, which were very pressing; and scrupled not to lay all the ill-consequences of Lydia's flight on her own folly alone. He meant to resign his commission immediately; and as to his future situation, he could conjecture very little about it. He must go somewhere, but he did not know where, and he knew he should have nothing to live on.
"Mr. Darcy asked him why he had not married your sister at once. Though Mr. Bennet was not imagined to be very rich, he would have been able to do something for him, and his situation must have been benefited by marriage. But he found, in reply to this question, that Wickham still cherished the hope of more effectually making his fortune by marriage in some other country. Under such circumstances, however, he was not likely to be proof against the temptation of immediate relief.
"They met several times, for there was much to be discussed. Wickham of course wanted more than he could get; but at length was reduced to be reasonable.
"Every thing being settled between them, Mr. Darcy's next step was to make your uncle acquainted with it, and he first called in Gracechurch street the evening before I came home. But Mr. Gardiner could not be seen, and Mr. Darcy found, on further inquiry, that your father was still with him, but would quit town the next morning. He did not judge your father to be a person whom he could so properly consult as your uncle, and therefore readily postponed seeing him till after the departure of the former. He did not leave his name, and till the next day it was only known that a gentleman had called on business."
Chapter 53
[In Chapter 53, we learn that Mr. Bingley would be coming to visit the Bennets, and when he arrived, Mr. Darcy was with him. This scene is also very much like that in the movie.]
"It is a long time, Mr. Bingley, since you went away," said Mrs. Bennet.
He readily agreed to it.
"I began to be afraid you would never come back again. People did say you meant to quit the place entirely at Michaelmas; but, however, I hope it is not true. A great many changes have happened in the neighbourhood, since you went away. Miss Lucas is married and settled. And one of my own daughters. I suppose you have heard of it; indeed, you must have seen it in the papers. It was in The Times and The Courier, I know; though it was not put in as it ought to be. It was only said, 'Lately, George Wickham, Esq. to Miss Lydia Bennet,' without there being a syllable said of her father, or the place where she lived, or anything. It was my brother Gardiner's drawing up too, and I wonder how he came to make such an awkward business of it. Did you see it?"
Bingley replied that he did, and made his congratulations. Elizabeth dared not lift up her eyes. How Mr. Darcy looked, therefore, she could not tell.
"It is a delightful thing, to be sure, to have a daughter well married," continued her mother, "but at the same time, Mr. Bingley, it is very hard to have her taken such a way from me. They are gone down to Newcastle, a place quite northward, it seems, and there they are to stay I do not know how long. His regiment is there; for I suppose you have heard of his leaving the ——shire, and of his being gone into the regulars. Thank Heaven! he has some friends, though perhaps not so many as he deserves."
"Elizabeth, who knew this to be levelled at Mr. Darcy, was in such misery of shame, that she could hardly keep her seat. It drew from her, however, the exertion of speaking, which nothing else had so effectually done before; and she asked Bingley whether he meant to make any stay in the country at present. A few weeks, he believed.
"When you have killed all your own birds, Mr. Bingley," said her mother, "I beg you will come here, and shoot as many as you please on Mr. Bennet's manor. I am sure he will be vastly happy to oblige you, and will save all the best of the covies for you. …
When the gentlemen rose to go away, Mrs. Bennet was mindful of her intended civility, and they were invited and engaged to dine at Longbourn in a few days time."
"You are quite a visit in my debt, Mr. Bingley," she added, "for when you went to town last winter, you promised to take a family dinner with us, as soon as you returned. I have not forgot, you see; and I assure you, I was very much disappointed that you did not come back and keep your engagement."
Bingley looked a little silly at this reflection, and said something of his concern at having been prevented by business. They then went away."
Chapter 55
[In Chapter 55, Bingley proposes to Jane.]
Chapter 56
[Chapter 56 is the scene where Lady Catherine comes to the Bennet home and tries to intimidate and bully Elizabeth into distancing herself from Darcy. When I watched the movie, I could not believe that Jane Austen would have written the dialogue that was used in the movie, but that is not the case. In the book, Elizabeth's response was very much the same as it was in the movie.]
"One morning, about a week after Bingley's engagement with Jane had been formed, as he and the females of the family were sitting together in the dining-room, their attention was suddenly drawn to the window, by the sound of a carriage; and they perceived a chaise and four driving up the lawn. It was too early in the morning for visitors, and besides, the equipage did not answer to that of any of their neighbours. The horses were post; and neither the carriage, nor the livery of the servant who preceded it, were familiar to them. As it was certain, however, that somebody was coming, Bingley instantly prevailed on Miss Bennet to avoid the confinement of such an intrusion, and walk away with him into the shrubbery. They both set off, and the conjectures of the remaining three continued, though with little satisfaction, till the door was thrown open and their visitor entered. It was Lady Catherine de Bourgh….
""She entered the room with an air more than usually ungracious, made no other reply to Elizabeth's salutation than a slight inclination of the head, and sat down without saying a word. Elizabeth had mentioned her name to her mother on her ladyship's entrance, though no request of introduction had been made.
Mrs. Bennet, all amazement, though flattered by having a guest of such high importance, received her with the utmost politeness. After sitting for a moment in silence, she said very stiffly to Elizabeth,
"I hope you are well, Miss Bennet. That lady, I suppose, is your mother."
Elizabeth replied very concisely that she was.
"And that I suppose is one of your sisters."
"Yes, madam," said Mrs. Bennet, delighted to speak to Lady Catherine. "She is my youngest girl but one. My youngest of all is lately married, and my eldest is somewhere about the grounds, walking with a young man who, I believe, will soon become a part of the family." …
"Mrs. Bennet, with great civility, begged her ladyship to take some refreshment; but Lady Catherine very resolutely, and not very politely, declined eating anything; and then, rising up, said to Elizabeth,
"Miss Bennet, there seemed to be a prettyish kind of a little wilderness on one side of your lawn. I should be glad to take a turn in it, if you will favour me with your company."
"Go, my dear," cried her mother, "and show her ladyship about the different walks. I think she will be pleased with the hermitage."
"Elizabeth obeyed, and running into her own room for her parasol, attended her noble guest downstairs. As they passed through the hall, Lady Catherine opened the doors into the dining-parlour and drawing-room, and pronouncing them, after a short survey, to be decent looking rooms, walked on.
"Her carriage remained at the door, and Elizabeth saw that her waiting-woman was in it. They proceeded in silence along the gravel walk that led to the copse; Elizabeth was determined to make no effort for conversation with a woman who was now more than usually insolent and disagreeable.
"How could I ever think her like her nephew?" said she, as she looked in her face.
As soon as they entered the copse, Lady Catherine began in the following manner:—
"You can be at no loss, Miss Bennet, to understand the reason of my journey hither. Your own heart, your own conscience, must tell you why I come."
Elizabeth looked with unaffected astonishment.
"Indeed, you are mistaken, Madam. I have not been at all able to account for the honour of seeing you here."
"Miss Bennet," replied her ladyship, in an angry tone, "you ought to know, that I am not to be trifled with. But however insincere you may choose to be, you shall not find me so. My character has ever been celebrated for its sincerity and frankness, and in a cause of such moment as this, I shall certainly not depart from it. A report of a most alarming nature reached me two days ago. I was told that not only your sister was on the point of being most advantageously married, but that you, that Miss Elizabeth Bennet, would, in all likelihood, be soon afterwards united to my nephew, my own nephew, Mr. Darcy. Though I know it must be a scandalous falsehood, though I would not injure him so much as to suppose the truth of it possible, I instantly resolved on setting off for this place, that I might make my sentiments known to you."
"If you believed it impossible to be true," said Elizabeth, colouring with astonishment and disdain, "I wonder you took the trouble of coming so far. What could your ladyship propose by it?"
"At once to insist upon having such a report universally contradicted."
"Your coming to Longbourn, to see me and my family," said Elizabeth coolly, "will be rather a confirmation of it; if, indeed, such a report is in existence."
"If! Do you then pretend to be ignorant of it? Has it not been industriously circulated by yourselves? Do you not know that such a report is spread abroad?"
"I never heard that it was."
"And can you likewise declare, that there is no foundation for it?"
"I do not pretend to possess equal frankness with your ladyship. You may ask questions which I shall not choose to answer."
"This is not to be borne. Miss Bennet, I insist on being satisfied. Has he, has my nephew, made you an offer of marriage?"
"Your ladyship has declared it to be impossible."
"It ought to be so; it must be so, while he retains the use of his reason. But your arts and allurements may, in a moment of infatuation, have made him forget what he owes to himself and to all his family. You may have drawn him in."
"If I have, I shall be the last person to confess it."
"Miss Bennet, do you know who I am? I have not been accustomed to such language as this. I am almost the nearest relation he has in the world, and am entitled to know all his dearest concerns."
"But you are not entitled to know mine; nor will such behaviour as this, ever induce me to be explicit."
"Let me be rightly understood. This match, to which you have the presumption to aspire, can never take place. No, never. Mr. Darcy is engaged to my daughter. Now what have you to say?"
"Only this; that if he is so, you can have no reason to suppose he will make an offer to me."
Lady Catherine hesitated for a moment, and then replied:
"The engagement between them is of a peculiar kind. From their infancy, they have been intended for each other. It was the favourite wish of his mother, as well as of hers. While in their cradles, we planned the union: and now, at the moment when the wishes of both sisters would be accomplished in their marriage, to be prevented by a young woman of inferior birth, of no importance in the world, and wholly unallied to the family! Do you pay no regard to the wishes of his friends? To his tacit engagement with Miss de Bourgh? Are you lost to every feeling of propriety and delicacy? Have you not heard me say that from his earliest hours he was destined for his cousin?"
"Yes, and I had heard it before. But what is that to me? If there is no other objection to my marrying your nephew, I shall certainly not be kept from it by knowing that his mother and aunt wished him to marry Miss de Bourgh. You both did as much as you could in planning the marriage. Its completion depended on others. If Mr. Darcy is neither by honour nor inclination confined to his cousin, why is not he to make another choice? And if I am that choice, why may not I accept him?"
"Because honour, decorum, prudence, nay, interest, forbid it. Yes, Miss Bennet, interest; for do not expect to be noticed by his family or friends, if you wilfully act against the inclinations of all. You will be censured, slighted, and despised, by everyone connected with him. Your alliance will be a disgrace; your name will never even be mentioned by any of us."
"These are heavy misfortunes," replied Elizabeth. "But the wife of Mr. Darcy must have such extraordinary sources of happiness necessarily attached to her situation, that she could, upon the whole, have no cause to repine."
"Obstinate, headstrong girl! I am ashamed of you! Is this your gratitude for my attentions to you last spring? Is nothing due to me on that score? Let us sit down. You are to understand, Miss Bennet, that I came here with the determined resolution of carrying my purpose; nor will I be dissuaded from it. I have not been used to submit to any person's whims. I have not been in the habit of brooking disappointment."
"That will make your ladyship's situation at present more pitiable; but it will have no effect on me."
"I will not be interrupted. Hear me in silence. My daughter and my nephew are formed for each other. They are descended, on the maternal side, from the same noble line; and, on the father's, from respectable, honourable, and ancient—though untitled—families. Their fortune on both sides is splendid. They are destined for each other by the voice of every member of their respective houses; and what is to divide them? The upstart pretensions of a young woman without family, connections, or fortune. Is this to be endured! But it must not, shall not be. If you were sensible of your own good, you would not wish to quit the sphere in which you have been brought up."
"In marrying your nephew, I should not consider myself as quitting that sphere. He is a gentleman; I am a gentleman's daughter; so far we are equal."
"True. You are a gentleman's daughter. But who was your mother? Who are your uncles and aunts? Do not imagine me ignorant of their condition."
"Whatever my connections may be," said Elizabeth, "if your nephew does not object to them, they can be nothing to you."
"Tell me once for all, are you engaged to him?"
Though Elizabeth would not, for the mere purpose of obliging Lady Catherine, have answered this question, she could not but say, after a moment's deliberation:
"I am not."
Lady Catherine seemed pleased.
"And will you promise me, never to enter into such an engagement?"
"I will make no promise of the kind."
"Miss Bennet I am shocked and astonished. I expected to find a more reasonable young woman. But do not deceive yourself into a belief that I will ever recede. I shall not go away till you have given me the assurance I require."
"And I certainly never shall give it. I am not to be intimidated into anything so wholly unreasonable. Your ladyship wants Mr. Darcy to marry your daughter; but would my giving you the wished-for promise make their marriage at all more probable? Supposing him to be attached to me, would my refusing to accept his hand make him wish to bestow it on his cousin? Allow me to say, Lady Catherine, that the arguments with which you have supported this extraordinary application have been as frivolous as the application was ill-judged. You have widely mistaken my character, if you think I can be worked on by such persuasions as these. How far your nephew might approve of your interference in his affairs, I cannot tell; but you have certainly no right to concern yourself in mine. I must beg, therefore, to be importuned no farther on the subject."
"Not so hasty, if you please. I have by no means done. To all the objections I have already urged, I have still another to add. I am no stranger to the particulars of your youngest sister's infamous elopement. I know it all; that the young man's marrying her was a patched-up business, at the expence of your father and uncles. And is such a girl to be my nephew's sister? Is her husband, is the son of his late father's steward, to be his brother? Heaven and earth!—of what are you thinking? Are the shades of Pemberley to be thus polluted?"
"You can now have nothing further to say," she resentfully answered. "You have insulted me in every possible method. I must beg to return to the house."
And she rose as she spoke. Lady Catherine rose also, and they turned back. Her ladyship was highly incensed.
"You have no regard, then, for the honour and credit of my nephew! Unfeeling, selfish girl! Do you not consider that a connection with you must disgrace him in the eyes of everybody?"
"Lady Catherine, I have nothing further to say. You know my sentiments."
"You are then resolved to have him?"
"I have said no such thing. I am only resolved to act in that manner, which will, in my own opinion, constitute my happiness, without reference to you, or to any person so wholly unconnected with me."
"It is well. You refuse, then, to oblige me. You refuse to obey the claims of duty, honour, and gratitude. You are determined to ruin him in the opinion of all his friends, and make him the contempt of the world."
"Neither duty, nor honour, nor gratitude," replied Elizabeth, "have any possible claim on me, in the present instance. No principle of either would be violated by my marriage with Mr. Darcy. And with regard to the resentment of his family, or the indignation of the world, if the former were excited by his marrying me, it would not give me one moment's concern—and the world in general would have too much sense to join in the scorn."
"And this is your real opinion! This is your final resolve! Very well. I shall now know how to act. Do not imagine, Miss Bennet, that your ambition will ever be gratified. I came to try you. I hoped to find you reasonable; but, depend upon it, I will carry my point."
In this manner Lady Catherine talked on, till they were at the door of the carriage, when, turning hastily round, she added, "I take no leave of you, Miss Bennet. I send no compliments to your mother. You deserve no such attention. I am most seriously displeased."
Elizabeth made no answer; and without attempting to persuade her ladyship to return into the house, walked quietly into it herself. She heard the carriage drive away as she proceeded up stairs. Her mother impatiently met her at the door of the dressing-room, to ask why Lady Catherine would not come in again and rest herself.
"She did not choose it," said her daughter, "she would go."
"She is a very fine-looking woman! and her calling here was prodigiously civil! for she only came, I suppose, to tell us the Collinses were well. She is on her road somewhere, I dare say, and so, passing through Meryton, thought she might as well call on you. I suppose she had nothing particular to say to you, Lizzy?"
Elizabeth was forced to give into a little falsehood here; for to acknowledge the substance of their conversation was impossible.
Chapter 58
[A few days after the visit from Lady Catherine, Bingley and Darcy return to the Allen home. Darcy attempts once more to express his feelings for Elizabeth to her.]
"You are too generous to trifle with me. If your feelings are still what they were last April, tell me so at once. My affections and wishes are unchanged, but one word from you will silence me on this subject for ever."
"Elizabeth, feeling all the more than common awkwardness and anxiety of his situation, now forced herself to speak; and immediately, though not very fluently, gave him to understand that her sentiments had undergone so material a change, since the period to which he alluded, as to make her receive with gratitude and pleasure his present assurances. The happiness which this reply produced, was such as he had probably never felt before; and he expressed himself on the occasion as sensibly and as warmly as a man violently in love can be supposed to do. Had Elizabeth been able to encounter his eye, she might have seen how well the expression of heartfelt delight, diffused over his face, became him; but, though she could not look, she could listen, and he told her of feelings, which, in proving of what importance she was to him, made his affection every moment more valuable."
Chapter 59
"You are joking, Lizzy. This cannot be!—engaged to Mr. Darcy! No, no, you shall not deceive me. I know it to be impossible."
"This is a wretched beginning indeed! My sole dependence was on you; and I am sure nobody else will believe me, if you do not. Yet, indeed, I am in earnest. I speak nothing but the truth. He still loves me, and we are engaged."
Jane looked at her doubtingly. "Oh, Lizzy! it cannot be. I know how much you dislike him."
"You know nothing of the matter. That is all to be forgot. Perhaps I did not always love him so well as I do now. But in such cases as these, a good memory is unpardonable. This is the last time I shall ever remember it myself."
Miss Bennet still looked all amazement. Elizabeth again, and more seriously assured her of its truth.
"Good Heaven! can it be really so! Yet now I must believe you," cried Jane. "My dear, dear Lizzy, I would—I do congratulate you—but are you certain? forgive the question—are you quite certain that you can be happy with him?"
"There can be no doubt of that. It is settled between us already, that we are to be the happiest couple in the world. But are you pleased, Jane? Shall you like to have such a brother?"
"Very, very much. Nothing could give either Bingley or myself more delight. But we considered it, we talked of it as impossible. And do you really love him quite well enough? Oh, Lizzy! do anything rather than marry without affection. Are you quite sure that you feel what you ought to do?"
"Oh, yes! You will only think I feel more than I ought to do, when I tell you all."
Chapter 60
Elizabeth's spirits soon rising to playfulness again, she wanted Mr. Darcy to account for his having ever fallen in love with her….
"For the liveliness of your mind, I did."
"You may as well call it impertinence at once. It was very little less. The fact is, that you were sick of civility, of deference, of officious attention. You were disgusted with the women who were always speaking, and looking, and thinking for your approbation alone. I roused, and interested you, because I was so unlike them.
Chapter 61
"Happy for all her maternal feelings was the day on which Mrs. Bennet got rid of her two most deserving daughters. With what delighted pride she afterwards visited Mrs. Bingley, and talked of Mrs. Darcy, may be guessed. I wish I could say, for the sake of her family, that the accomplishment of her earnest desire in the establishment of so many of her children produced so happy an effect as to make her a sensible, amiable, well-informed woman for the rest of her life; though perhaps it was lucky for her husband, who might not have relished domestic felicity in so unusual a form, that she still was occasionally nervous and invariably silly.
"Mr. Bennet missed his second daughter exceedingly; his affection for her drew him oftener from home than anything else could do. He delighted in going to Pemberley, especially when he was least expected.
"Mr. Bingley and Jane remained at Netherfield only a twelvemonth. So near a vicinity to her mother and Meryton relations was not desirable even to his easy temper, or her affectionate heart. The darling wish of his sisters was then gratified; he bought an estate in a neighbouring county to Derbyshire, and Jane and Elizabeth, in addition to every other source of happiness, were within thirty miles of each other.