Red Chalk Drawing of a Boy by Jacki Kellum January 15, 2016
Believe it or not, I drew the above on my new Ipad Pro, using my new Apple Pencil and the app Paper by 53. Unlike many of the drawings and paintings that I have done on computer apps, the above image was not computer-assisted. I did not load an image and trace over that image. More importantly, I did not load an image and 1, 2, 3 – Poof! I had a drawing. Although I used the Ipad pro to create the above drawing, I considered every mark carefully and placed it myself. This is the first time that I have done computer art that I would classify as true art. The Ipad Pro, the Apple Pencil, and the app Paper by 53 were mere tools for me–rather like a pencil and paper would be–but I did the drawing.
I like the Ipad Pro's Size. Its screen is almost 13." In fact, Apple makes a Mac that is almost the same size. I believe that the Ipad Pro is the same size as the computer Surface Pro. While 13″ is a bit small for my computer, it is a HUGE improvement over the size of other Ipads, and because it offers Ipad apps and because it coordinates with the Apple pencil, the Ipad Pro offers drawing potential that computers do not offer.
A canvas designed for your biggest ideas.
"With 5.6 million pixels, iPad Pro features the highest‑resolution Retina display of any iOS device. The 12.9‑inch screen makes everything you do — editing 4K video, designing presentations, running a business — easier, faster, and more engaging. And the Multi‑Touch subsystem has been reengineered, expanding the ways you can interact with iPad."
The Ipad Pro has 4 large and powerful speakers, and I was stunned at the sound quality of the music. In the above photo, the Ipad Pro is shown propped in a Logitech backlit keyboard case. Note: The speakers are in the Ipad Pro and not in the case.
I opted for the Logitech case. I love the way that the case's magnetic strip locks the Ipad in place. Unlike similar cases, the Logitech does not allow the Ipad Pro to continuously shift out of position. With many of the other keyboard or easel-like cases, controlling the keyboard's position is like wrestling an alligator.
Although the Ipad Pro does have a keyboard inside itself, the keyboard case offers all of the basic functions and the typing functionality that is typical of a regular computer's Qwerty keyboard. In my opinion, that is a great feature for anyone who needs to use the Ipad Pro for writing, as well as for drawing.
In order to get the total drawing benefit of your Ipad Pro, you will need to also purchase an Apple Pencil. Like Butter and Bread, these two tools need each other. The Apple Pencil has completely raised the bar for stylus functionality. Notice the small point on the Apple Pencil. I HATE the fat rubber tip that other styluses offer. With a fat stylus tip, I feel like I am drawing with my big toe, and the other styluses that are thin are too thin. The size of the tip on the Apple Pro is right, and it is not squishy.
But HERE is the true beauty of the Apple Pencil: Its entire tip is active. If you turn the pencil on its side. you will get another set of marks. Especially in the app Paper by 53, your marks will be like that of holding a regular pencil on the side, which is the way to create broad swaths of soft shading. In the following image, you will see how I began the chalk drawing. I made almost all of the initial marks by holding the Apple Pencil on its side.
The Apple Pencil does not have an eraser. Beneath what appears to be the eraser, there is a connector that you will use to charge your apple pencil. You charge the pencil by inserting the connector into the Ipad's charging portal. As you do so, your Ipad Pro and the Apple Pencil sync.
I have tried several apps for drawing or painting with the Ipad Pro. Different apps allow different approaches. In my opinion, Paper by 53 shines as a Creative Drawing app. That being said, it is not the best app for scientific or precise drawings, like the ones that you would create in Adobe Illustrator, and it is also not a full-fledged painting app. Paper by 53 is an app for sensitive and more elusive drawing. In my opinion, Paper by 53 allows you to create drawings that I classify as artistic expression.
The Earring – Red Chalk Drawing Created in Ipad Pro by Jacki Kellum
Paper by 53 has a limited number of drawing tools.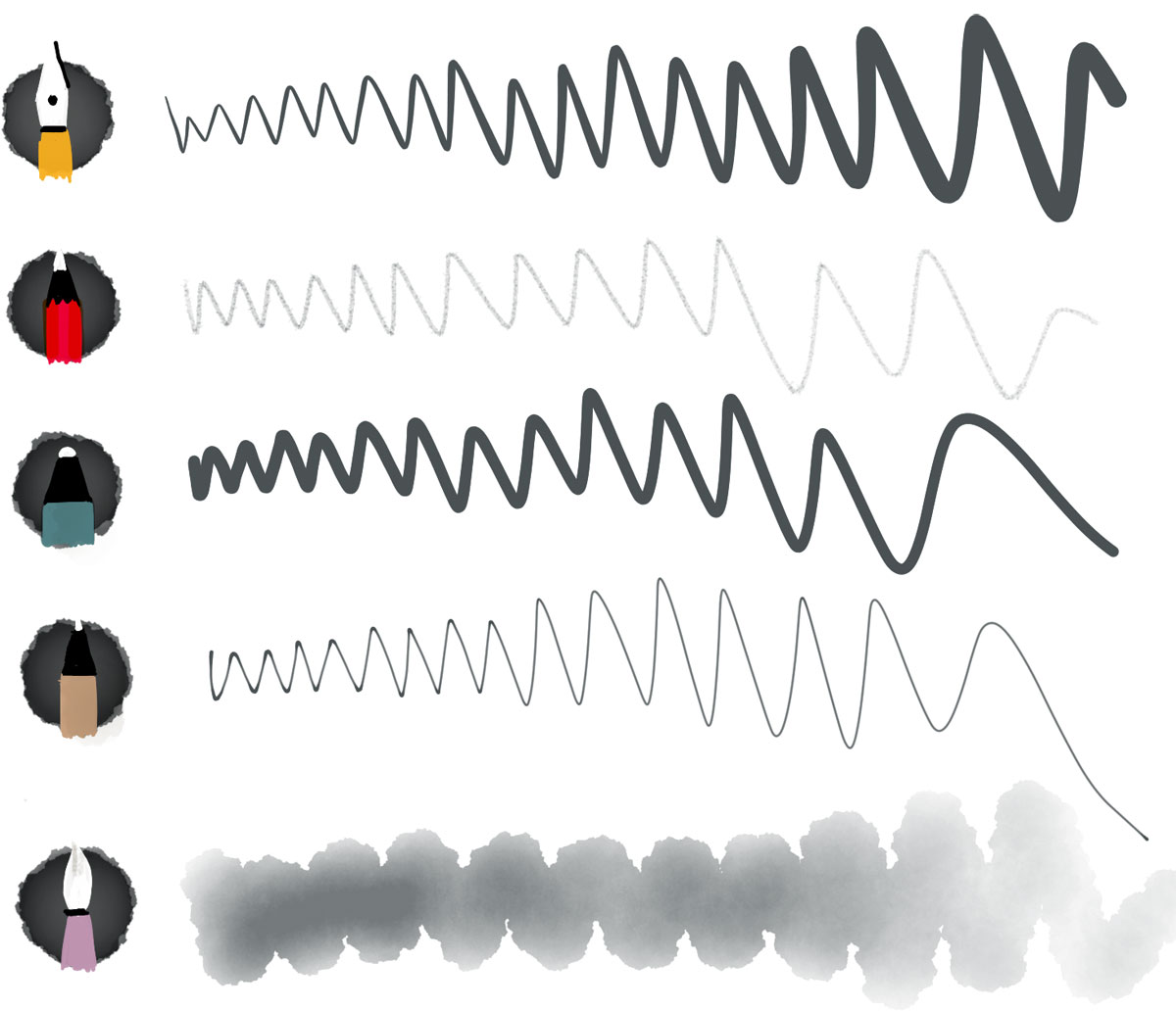 The Color palette is small, but you can mix any two colors to create others.
For my red chalk drawings, I use the Pencil and two, unmixed colors: Orange and White.
I use the white almost like an eraser. I do not use Paper's eraser for much at all, and I never use it when I am drawing. When I tried the eraser, it looked as though I had taken a harsh bite out of my drawing. The white color erases in a softer, more integrated way. I also use the white as a highlight–to create magical kisses of light. For the drawings that I am showing, I used the Pencil Tool. I also like the watercolor tool, but I have not found a use for that tool yet.
African Girl with Princess Leia Braids – Red Chalk Drawing by Jacki Kellum
Most graphic artists will probably see ways that the Ipad Pro could be beneficial for their work. The Ipad Pro's value for photographers is also fairly obvious.  However, fine artists might wonder why they would want to create digital drawings on an Ipad. After all, the results are digital–they are not real drawings. [Or are they? I actually believe that because of Ipad Pro and Apple Pencil, that line is finally being erased].
The Flapper – Red Chalk Drawing Created in Ipad Pro by Jacki Kellum
I do view the Ipad Pro and the Apple Pencil as excellent tools for practicing. At least 90% of creating in art has to do with SEEING. It is especially important to see how and where light strikes an object's or a person's surface. I prefer art that is quick and intuitive. I am not crazy about art that is fussy, tight, and overworked. In order to create quick, almost impulsive work, an artist needs to SEE accurately.He also needs to learn to dash his marks here and there, and the marks need to land in just the right places. Practice is the only way to become good at this kind of artistic bravura.
Because of the Ipad Pro and the Apple Pencil, I am able to practice while sitting on my bed, while drinking coffee in Starbucks, and while sitting in the car, waiting to drive carpool. The Ipad Pro and the Apple Pencil have helped me turn down time into up time, and in my opinion, that is a wonderful reason to own these devices. But I believe that they serve an even greater purpose.
I am a dinosaur in the art world. I have been out of art school for almost half a century, but I can still admit that digital drawing may actually be a final art form. In other words, a digital drawing may be more than a study or a practice. We are reminded of the arguments about Process versus Product. Do we really need a tangible product for us to call Ipad Drawings art?
There are many Ipad apps that allow you to upload a photo and to create an arty looking picture by merely touching a button. When you use these types of apps, the Ipad makes all the marks. The user does not. That is not art. The drawings that I am showing you were not done in that way. I made every mark in each of the drawings done, and I did not upload a photograph to trace for doing so. While I would agree that a mere touch of a button is not art, I'd be willing to argue the case for what I am doing now with the Ipad Pro and the Apple Pencil. I do believe that with the Ipad Pro and the Apple Pencil, we are watching an entirely new generation of arts unfold.
©Jacki Kellum January 16, 2016