"The Rev. Whitaker and [his family lived] one-half mile from the Oak Grove Baptist Church in Dunkln County, Missouri, which he served….Their home was located…on a large farm consisting of an orchard from which apple juice and wine were made using horses to pull machinery for making the finished product.
"There were large areas where children found many places to play games. Many family members and their friends came to play hopscotch, croquet, softball, marbles, jumprope, run races, mumbly peg, hide and seek, or maybe to read a book. Many of the same activities which were popular among the families at that time are still enjoyed today.
"On occasions there were church family dinners on the ground since their house was near the church. Many of the people were farmers, and church days were very important. Many had to travel long distances to meet with friends to visit and to converse.
"This is the house in which Mayme Whitaker Dunscomb lived as a child. It was an old farm house made with hewn cut boards with high ceilings and big rooms. There was a huge fireplace containing a large back log. Iron pots hung on bars for cooking. Sweet and irish potatoes which  were home grown were cooked well near the front where they touched hot coals.
"Over the years, the house was extended, but the original rooms remained very large. It was repainted with a red barn colored paint. In the room with the huge fireplace were two large sized beds with straw mattresses. One of the beds was antique with its trundle bed which also had a straw mattress. The strong thick cloth, known as cotton muslin held a strong cord made of fiber twisted or braided to the mattress. The other bed was located near the open fire. As new rooms were completed, the Rev. and Mrs. Whitaker would purchase 'pot belly' stoves for heating.
"Two bedrooms were added to one side of the house along with a porch shaped at a right angle to connect the old part of the house to the new. The 'pot belly' stove was located in the area of the house near the children's rooms. During cold, wintry evenings the remainder of the house was closed off in order to conserve firewood. Family members congregated in one large heated room to study, to do hand work, and other household chores which needed to be completed before bedtime.
"Much time was spent in the large, comfortable kitchen with its wood-burning cook stove containing a top warmer and a side water heater.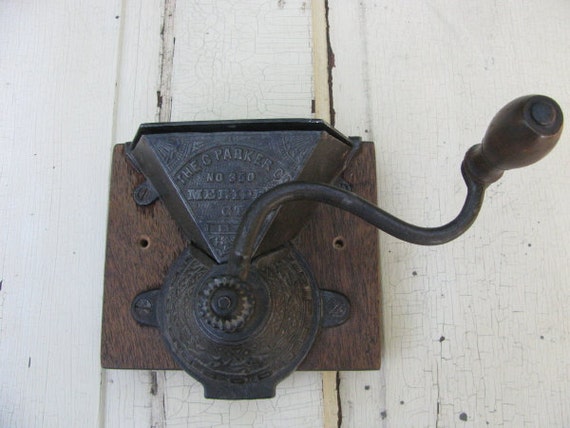 "Hanging on the big window frame was a coffee grinder where family members ground coffee beans. The kitchen was sufficiently large for family and friends to visit and to eat  three meals which they had each day, no matter how many were there to eat.
"Down the road from the house on the way to church were pecan trees, black walnut trees, shade trees, and a fruit orchard. The family raised most of their food with help from their children, servants, and other extra 'hired hands' for special work. During those times home-grown foods such as vegetables, fruits, nuts, eggs, and meat were given in lieu of money to the family's pastor as their tithe. Corn was taken to the grist mill for making meal which was shared with others or was exhanged for other items needed by the family."
Curry, pgs. 25-26.
Copyright Jacki Kellum October 24, 2015
All Rights Reserved